The new year has always brought about hope and the promise of a good start with new beginnings. Here at Brand Guide, we'll toast to new beginnings, bringing more content, events to share and educate readers through actual businesses on the importance of good branding. To start the year off, we've got somethings mapped out that will cover a good deal for the design enthusiasts and give some insights for the keen entrepreneur who's looking to launch their next promising start-up.
Many readers have shared their love for our book and the map we've provided, so it got us thinking about how can our map be better utilised and actually have to come to life?
So let's talk map – the What, Why and How: Everyone would notice the thin yellow paper folded and clipped to the front cover of Brand Guide. We think this feature fairly ingenious since you can easily detach it and carry it on-the-go and whip it out when you need it. It's also a visual summation of the brands we celebrate around town and we'd love to share more on this addition and its prominence.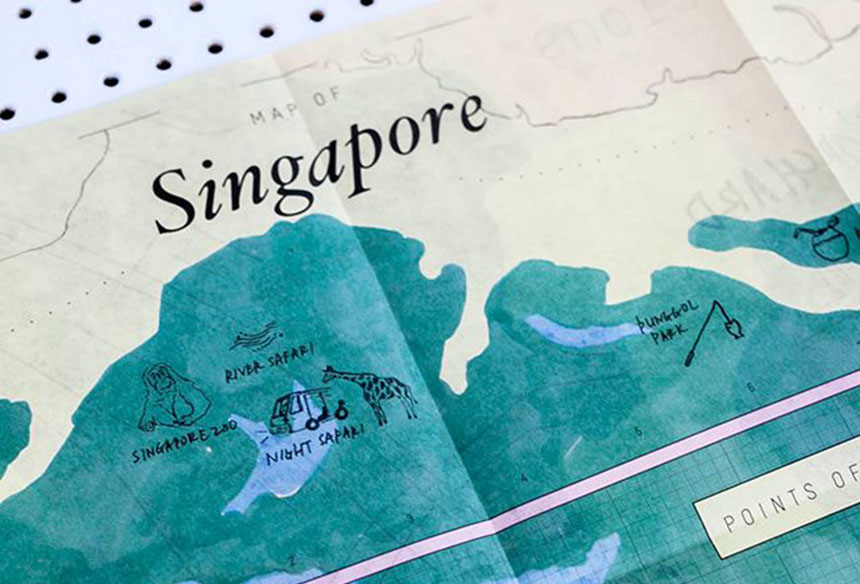 We all have friends who would love to visit this city, but the common question is ' Where should I go like the locals?' Keeping in mind these travellers who are less touristy, our map offers some alternatives. For the Orchard precinct, we would suggest a stay at Lloyd Inn's instead of Marina Mandarin Hotel for instance; and honestly, if you had just a couple of hours, ditch the multi-level mall-shopping along Orchard and head straight to Keepers and Pact stores. You'll be sure to score a well designed product that will be as good a memorabilia of your time in Singapore as a box of merlion-shaped chocolates.
Now, if you've been our ardent fan from day 1, following us on every social media platform, we wanna thank you. Also, you would've noticed our little efforts posting 15-seconds trail on Instagram:
Some have asked for more, so here's a call to action!
Together with Aesop's launch of Taxonomy of Design microsite, Brand Guide will be hosting a outdoor walking design trail around Chinatown/ Outram precinct on 16 Jan 2016 (next Saturday). The trail will take about 2 hours, starting with Aesop Club Street Store.
Well, why go on this trail? We're prepping all the inside scoop to draw your attention to details that may have gone unnoticed, and we're all set to meet like-minded people who, like us, run our hands over the shelves and surfaces before noticing the products; always checking out the paper stock of menus instead of perusing the delicious offerings; nodding our heads unwittingly to the spot-on material mix of the tabletop and flooring when the servers trying to seat us down.
Walk with us and visit these establishments to know their story, their philosophy and how they've built a brand that people recognise and celebrate. Or simply, perk up your lacklustre weekend and take us up on our enticing offer which we promise a leisurely, informative, and interactive time all in 2 hours.
Sign up to be on our mailing list here or email us for more details on the upcoming Brand Guide X Aesop Design Trail.